Dental hygiene may be key for lupus
November 28, 2018

Halitosis: 10 reasons — and remedies — for your bad breath
December 11, 2018
When it comes to brushing your teeth, according to Michael Apa, DDS, a cosmetic dentist at the Rosenthal Apa Group in NYC, many people don't do it properly and they definitely don't brush for two minutes. "An electronic toothbrush, however, takes the guesswork out of brushing your teeth properly. "For example, if you brush your teeth manually, you're supposed to use circular motions to clean your teeth as you hold the brush at a 45 degree angle along the gumline. But if you're using an electronic toothbrush, all you do is hold it at the gumline and let it do its thing...meaning it's not that critical to hold the brush at a specific angle, because its vibrations will cause it to do exactly what it needs to do to remove any plaque buildup." Here, five solid ones to invest in from our electronic toothbrush POV.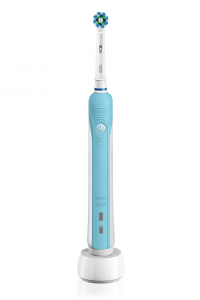 1
Pro 1000 Power Rechargeable Electric Toothbrush
AMAZON
$69.99
$34.94 (50% off)
Why It's Amazing: Its round brush head wraps around each tooth, cleaning it individually; its bristles are on a 16-degree angle to reach between the teeth, helping to lift up to 300 percent more plaque along the gumline (compared to a manual toothbrush); and its pressure sensor slows the cleaning down (and even stops it!) if you brush too hard. Oh, and it let's you know when to switch up your positioning every 30 seconds, so you cover your entire mouth over the two-minute time frame.
What You Get: One Oral-B Professional Handle, one CrossAction brush head, and one charger.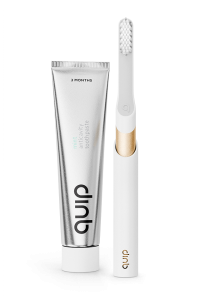 2
QUIP Electric Toothbrush Set
Quipgetquip.com
$40.00
Why It's Amazing: Its flexible brush head not only consists of 1,200 round-tipped nylon bristles that vibrate at 15,000 revolutions per minute, the toothbrush also pulses every 30 seconds for an even clean that stops after two minutes.
What You Get: It includes one electric toothbrush (available with a metal or plastic waterproof and shower-safe handle), a soft bristle brush head, removable AAA battery, and one multi-use cover. Oh, and you get a one three-month supple of mint anti-cavity toothpaste that's free with your first purchase.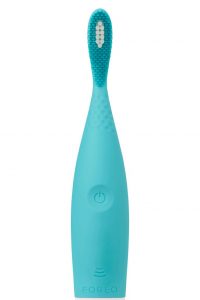 3
ISSA Play Sonic Toothbrush
NORDSTROM.COM
$49.00
Why It's Amazing: This electric toothbrush helps get rid of any plaque with the 9,000 high-intensity pulsations it serves up per minute, but goes easy on your gums thanks to its soft, antibacterial-coated silicone bristles (that harbor less bacteria). It also lasts up to 800 uses without requiring you to change the batteries in between, and is waterproof.
What You Get: Its $49 price tag includes the toothbrush that features everything above in choice of one of five colors.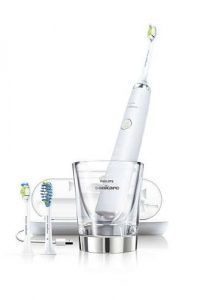 4
DiamondClean Toothbrush
PHILIPS
Sonicareusa.philips.com
$219.99
Why It's Amazing: It claims to remove 100 percent more plaque than a manual toothbrush with the five modes it offers up: "Clean," "Gum Care" (to massage your gums) "Polish" (to brighten teeth) "Sensitive" (for a gentle, effective cleaning), and "White" (to remove surface stains). It also promises a whiter smile in one week and healthier gums in just two weeks—again, since it removes more plaque along the gumline than a manual toothbrush.
What You Get: It includes two Diamond Clean brush heads, a glass charger, and a handy USB charging case.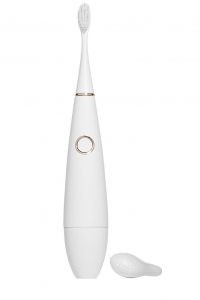 5
Clean White Sonic Toothbrush
REVOLVE.COM
Apa Beautyrevolve.com
$250.00
Why It's Amazing: This chic option features sonic technology that offers up three modes to clean, polish, and whiten your teeth, while massaging your gums for optimal health thanks to its 40,000 vibrations per minute. It also beeps to let you know when it's time to change up the area you're brushing, so you never miss a spot.
What You Get: It includes two full-size brush heads—one with whitening bristles to remove stains and a softer version to gently clean your teeth. It also comes with a charging dock.